Tsyplenkov Veniamin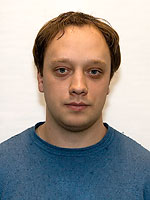 Research associate of the Department for physics of semiconductors, PhD in Physics.
Personal data
Born on 22 September, 1981 in the viilage of Sitskoe (Nizhniy Novgorod region).
Research interests
Physics of semiconductors, silicon, small donors.
Education
School
School of Sitskoe.
University
Faculty of radiophysics of N. I. Lobachevsky State University of Nizhniy Novgorod.
Career
2004-present — junior research associate of the IPM RAS.
Publications
Contact detail
Phone: +7 (831) 417-94-79
E-mail:

Tsyplenkov1@yandex.ru