Okomel'kov Alexander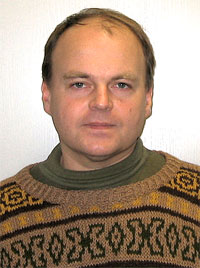 Senior research associate of the Department for physics of superconductivity, PhD in Physics.
Personal data
Born in 1957 in Nizhniy Novgorod.
Research interests
Stimulated emission, optical pumping in semiconductors, mercury-cadmium-tellurium heterostructures, radiative interband transitions, emission spectra, multi-frequency lasing, mechanisms of recombination, photomagnetic ferromagnets.
Education
1974 — 1979 — study in N. I. Lobachevsky State University of Nizhniy Novgorod.
1989 — PhD in Physics

(

thesis — «Hot carriers in narrow-gap semiconductors and population inversion», Supervisor — G. M. Genkin).
Career
1979 — 1993 —

trainee researcher

, engineer

,

junior research associate

,

research associate

,

senior research associate of the IAP RAS;
1993 — present — senior research associate of the IPM RAS;
Publications
Memory effect and nonequilibrium resistive response in optically excited high-Tc YBa2Cu3O7-x superconducting films / G. M. Genkin, Yu. N. Nozdrin

,

A. V. Okomel'kov

,

P. P. Vysheslavtsev

,

Physics Letters A 166

(

3

,

4), 279

(

1992).
Flux creepin inhomogeneous superconductors / G. M. Genkin, A. V. Okomel'kov

,

Phys. Rev. B 52, 9697

(

1995);
Exchange interaction of carriers in systems with stripes / A. V. Okomel'kov

,

Phys. Rev. B 72, 014526

(

2005);
Magnetization of a garnet film through a change in its multidomain structure under circularly polarized light / G. M. Genkin, Yu. N. Nozdrin

,

A. V. Okomel'kov

,

I. D. Tokman

,

Phys. Rev. B 86, 024405−1

(

2012);
Stimulated Emission from Optically Excited CdxHg1-xTe Structures at Room Temperature / A. A. Andronov, Yu. N. Nozdrin

,

A. V. Okomel'kov

,

N. N. Mikhailov

,

G. Yu. Sidorov

,

and V. S. Varavin, Journal of Luminescence 132

(

3), 612

(

2012);
Contact detail
Phone: +7 920 0649082
E-mail:

okom@ipmras.ru